Warmly welcome the leaders of Wuhu City to visit Wuwei Pharmaceutical Factory for inspection and guidance
---
---
On March 3, 2015, Wuhu Municipal Party Committee Secretary Gao Dengbang, Mayor Pan Zhaohui, Deputy Mayor Lin Xuwen and some other members of the four major teams, the principals of various counties and districts and other government leaders visited Fengyuan Pharmaceutical Wuwei Pharmaceutical Factory Fudu New Factory for inspection Guidance, the company's general manager Gao Ji, Wuwei pharmaceutical factory director Hu Baowen accompanied the whole process.
First of all, the company's general manager, on behalf of all the company's employees, extended a warm welcome to all the leaders, and made a detailed report on Anhui Fengyuan Pharmaceutical Co., Ltd., the fundraising project of Wuwei Pharmaceutical Factory, and the product planning of Wuwei Pharmaceutical Factory in the next five years. While providing physical samples, he introduced the product types of Wuwei Pharmaceutical Factory to the inspecting leaders, and discussed and analyzed the situation of drug administration, supervision and bidding in 2015 with Secretary Gao and Mayor Pan. In response measures, we will strive to give full play to the financing, technology and brand advantages of listed companies, make the company bigger and stronger, and practice the social mission of "cherishing life, caring for health, doing good medicine, and serving the people".
Secretary Gao agreed with the achievements and future development plans of Fengyuan Pharmaceutical, the first listed Anhui pharmaceutical company registered in Wuwei. 5 years of net assets of 10 billion. Mayor Pan emphasized that drug manufacturers have their own particularities, and they must ensure product quality, take a differentiated route, and develop some good varieties to market as soon as possible.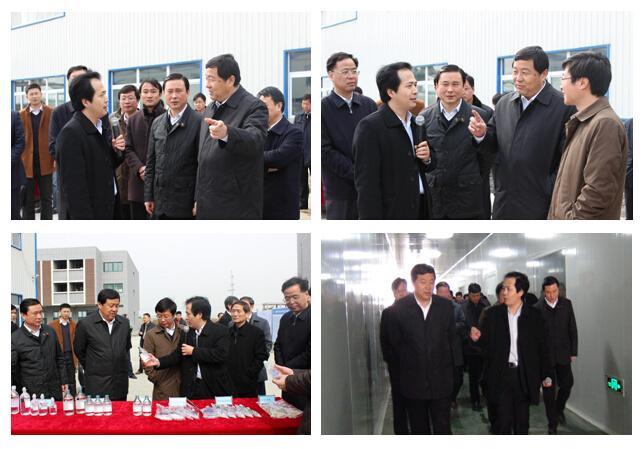 ---